Today marks a week since the launch of the new Mercedes-Benz C-Class in South Africa and it's a very important release for Mercedes as it is their biggest seller. South Africa is particularly important as it's also the home to the massive Mercedes-Benz East London plant of which 80% of the C-Class models produced are for international markets. The Mercedes-Benz South Africa East London Plant has an exceptional track record, being awarded the J.D. Power and Associates Award five years in a row. That said this year sees a 24-hour production for the new Mercedes-Benz C-Class, also seeing an increase in training, jobs and infrastructure in the East London plant as well as a contribution to the South African economy.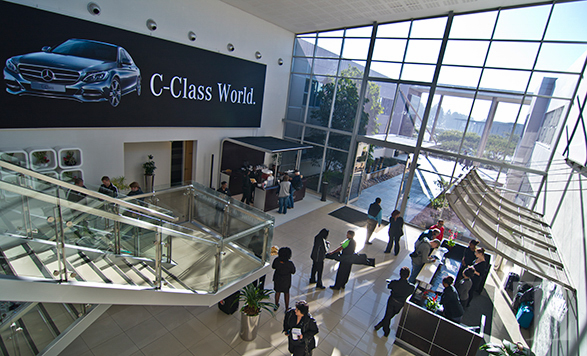 For the launch of the new Mercedes-Benz C-Class, falling under the new W205 model code, the brand really went the extra mile and created C-Class world, a building which showcases everything C-Class, from the design both interior and exterior, finishes as well as a showroom and cinema documenting all of what goes into the new C-Class. It was really special to have insights into it, showing the pride and passion that went into the new model as well as showcasing employees who are passionate about Mercedes-Benz and building the all new C-Class.
In person the new car has grown up in all senses of the word. It's not only a larger car but it's more luxurious, the design lines are sleek and really make sense when observing the car. In addition, there's a large range of technology and driver safety options which you can customize your new C-Class with, which just takes it to a new level completely. Even the standard Mercedes-Benz C-Class is beauty and in terms of finishes and attention to detail, they've raised the bar. It's really something you need to experience.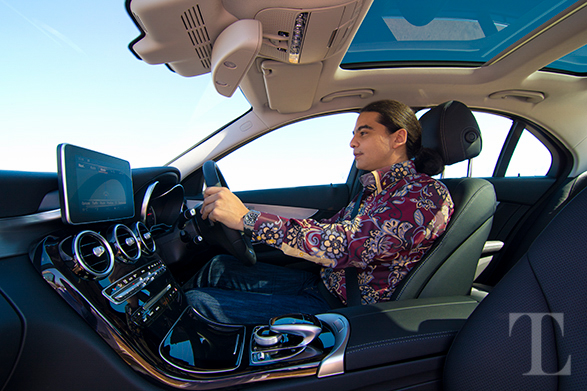 Driving is nothing but a pleasure and everything feels where it needs to be. Even if you're not used to a new Mercedes, learning how to operate the tech as well as set options and customize your driving experience is done easily. The car really does feel lighter and even when driving the new C180, it doesn't feel bogged down. I'm a man of quality and I can say that for long drives this vehicle is perfect, comfortable and as a whole is really well built.
If you're into tech, you need to have a look at the new touchpad, which is placed perfectly in front of the arm rest. This allows for easy changes to be made to your vehicles using gestures and motions. If you're used to using a Mac or iPad, even easier. Alternatively if you still prefer the older method, the rotary wheel is still available to customize your settings. The touchpad works really well and feels natural to the touch without being too distracting. It's just another step forward and shows why Mercedes are looking ahead and wanting to stay at the top.
I mentioned safety features earlier and in addition to the large range of features, the new Mercedes-Benz C-Class has a large selection of optional extras to make your ride that much more luxurious, special and more-aware. These include Distronic Plus, Collision Prevention Assist Plus, Adaptive Cruise Control, 360° Camera to enable you to park more easily and Active parking Assist amongst other options. I've captured some examples on video below of a few of these options to showcase that when in need, technology can really be of great benefit.
The features above highlight Parallel and Alley Dock parking using the Active Park Assist as well as preventing collision with the utilization of Active Blind Spot Assist combined with braking.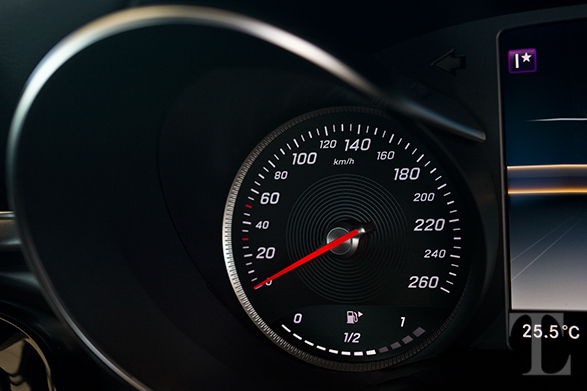 If you enjoy driving, then this is definitely a vehicle to consider as you feel connected, not only to the vehicle but to the road when driving. The new C-Class is not only responsive but has all the information you require to enjoy your experience right in front of you. Combine that with customizing your ride on based on your preference and you have a winning combination.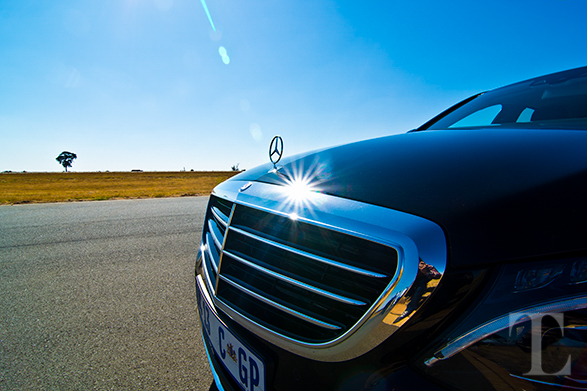 With every generation cars grow and with some, it may feel larger but whether you're driving or admiring the lines and design, the new C-Class doesn't feel that way. It's grown in more ways than one and really matured to a level of real class and luxury. Whether you're opting for the sporty AMG line, Avantgarde line or the classy Exclusive, you're experiencing the quality that is Mercedes-Benz.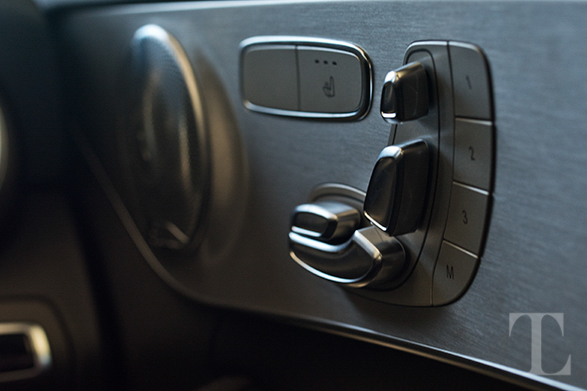 As I've mentioned the cabin is sheer quality and just feels right but it has to be said that if you're serious about sound, treat yourself to the 13 speaker Burmester sound system producing 590W. It's a fully customized kit that will deliver an enriching audio experience. In the full day out, I connected my iPhone easily and the Burmester really added to the already well-rounded experience delivered by the C-Class, delivering superb quality audio.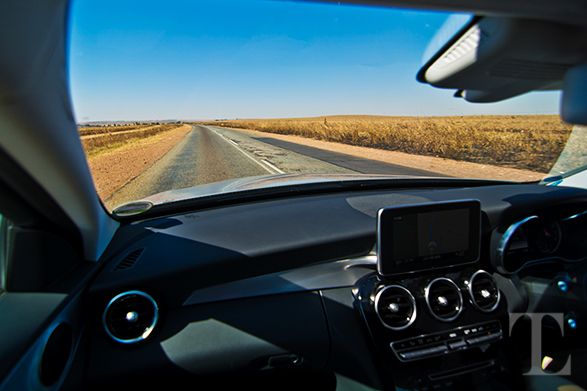 I was initially concerned to learn that the new Mercedes-Benz C-Class comes with runflat tyres as roads around the world can vary, however I was pleased to see that even when hitting really bad back roads, the vehicle didn't seem too phased in terms of handling those bumps, holes and uneven surfaces. Even when adjusting between the driving modes, the standard link suspension held up nicely in combination with the runflat tyres. It wasn't uncomfortable. Mercedes now also offers Airmatic which is an air suspension as an option. It really transforms the ride without compromising the driver experience and offers a step up from the standard suspension.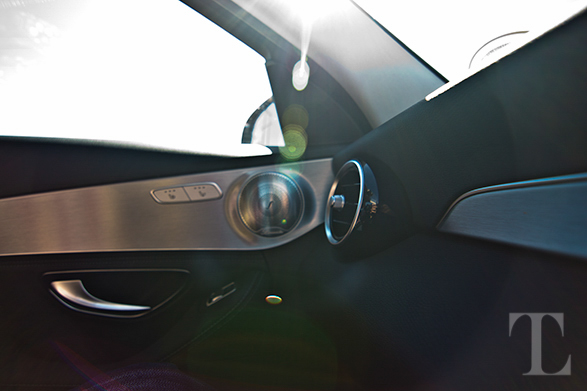 Overall, Mercedes have surprised a number of people lately, not only with their new product range but also in terms of where they are headed with design language, technology and vehicles. The new C-Class once again raises the bar and reaffirms Mercedes-Benz's strength in the market as well as their forward-thinking approach.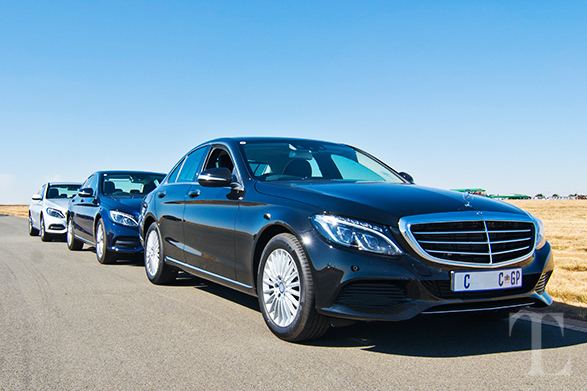 Mercedes-Benz has a new statement with the new Mercedes-Benz C-Class: The best knows no alternative. That's a powerful thing to say and in the past Mercedes-Benz have really raised the bar. The new C-Class has really grown up and in my opinion has really jumped a generation, both in terms of design, technology as well as finishes and detail. Is it the best and is there an alternative. Well once you experienced one, it'll be very difficult to look elsewhere.